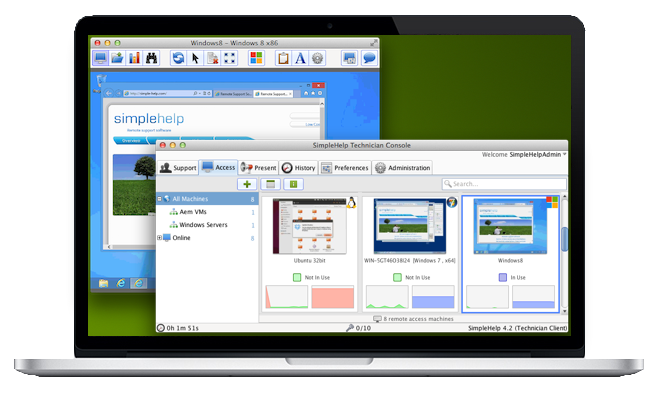 Remote Support Software
SimpleHelp is the simplest way for support professionals to help customers anywhere
Connect to remote computers, view their screens and control them.

Monitor and Access
Unattended Computers

Watch over thousands of computers, monitor them and connect in if required.

No Monthly Fees
No Hassle

Use monitoring for free, or purchase a session license and pay once for what you need.
---
Simple to install and own

| | |
| --- | --- |
| | Server software for Windows, Linux and OS X |

| | |
| --- | --- |
| | Install on a computer inside or outside your network |

| | |
| --- | --- |
| | Quick firewall-friendly setup |

| | |
| --- | --- |
| | Use forever without rental fees or hidden costs |
---
Remote Support


Customer initiated on demand support sessions

Your customers can request support in just two clicks: Download and Run. In seconds you can view and control their computer.
---
Remote Monitoring


Simple health check and performance overview for important systems

Monitor thousands of servers and PCs. Spot problems before users even notice, and get alerted about critical issues.
---
Remote Access


Easiest way to support unattended computers

Remotely diagnose issues and access computers when no-one is there. Efficiently perform remote maintenance and deployments.
---
Remote Presentation


Simple screen-sharing for online meetings and webinars

Share your screen with thousands of presentation attendees. Attendees need just a web browser. No Java, Flash, Silverlight or downloads required.
---
Used by IT professionals worldwide


SimpleHelp is used worldwide, and is translated into multiple languages

Technical services firms who manage IT for businesses,

IT help desk teams supporting users within their organisation and other

technical support teams all use SimpleHelp.

SimpleHelp is translated into Danish, German, Spanish, French, Italian, Dutch, Portuguese and Swedish.