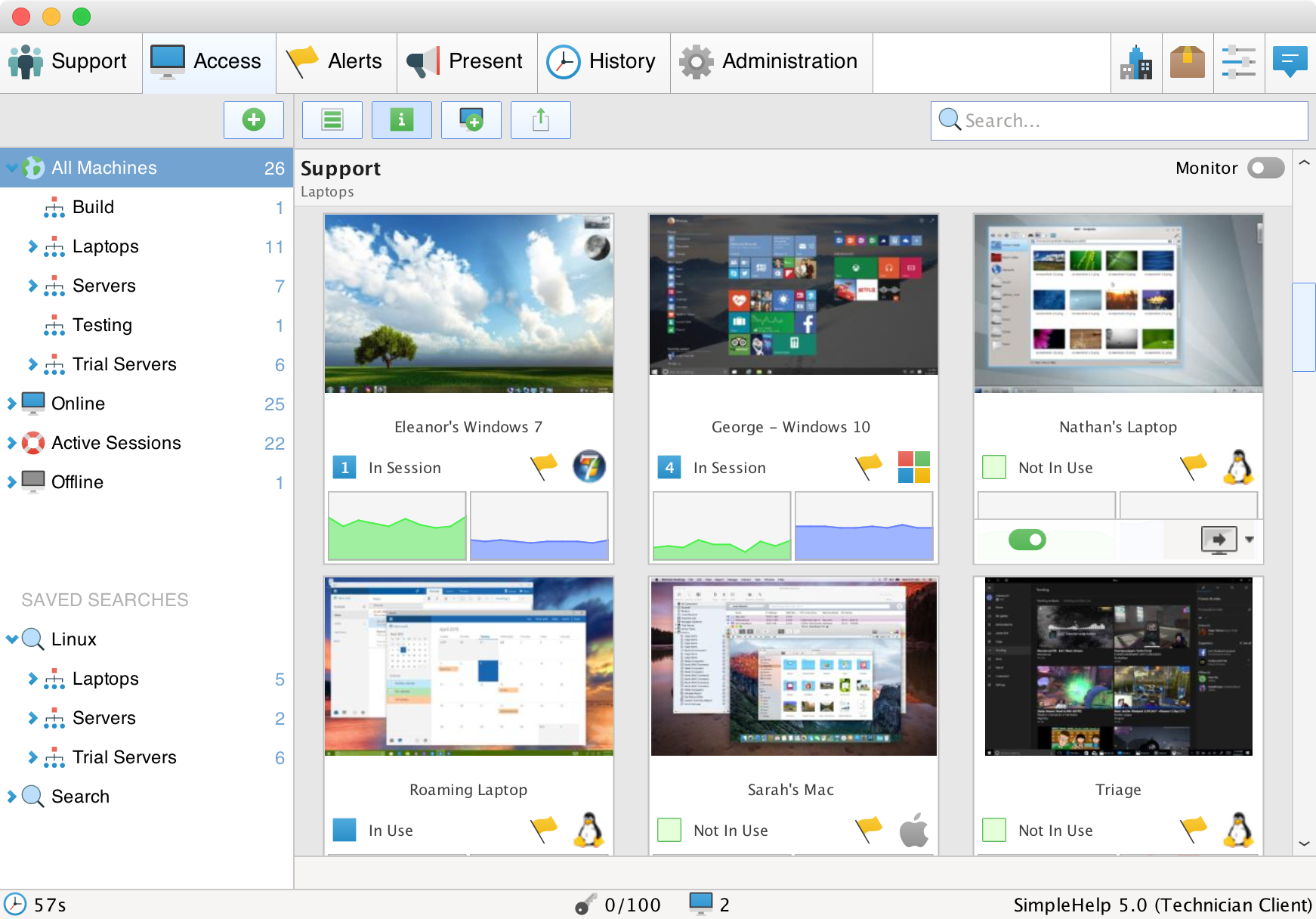 Remote Support Software
SimpleHelp is the simplest way for support professionals to help customers anywhere
Introducing SimpleHelp 5.4

SimpleHelp 5.4 is now available and includes many changes and improvements including:​

Access Machine Queries

OAUTH2 SMTP Support




ARM Server Builds




Per-Display DPI Capture

Support Improvements

​TLS 1.3 Support



---
SimpleHelp - Remote Support Made Easy
Server software for Windows, Linux and macOS

Install on a computer inside or outside of your network to allow your support technicians to connect to your customer's computers.

Support customers who visit your site

Customers who need support visit your site to launch the support application. Your technicians see the customer in the waiting queue, and initiate a session.
Use your server forever without rental fees or hidden costs. Pay for the sessions you need, and upgrade whenever you like.

Register machines for unattended access

Install the Remote Access Service to register a computer with SimpleHelp. Technicians can then monitor it and be alerted of problems, and connect when required.
---
What's New in SimpleHelp 5?
| | | | | |
| --- | --- | --- | --- | --- |
| A new, scalable interface for standard and high resolution displays. | Easily connect to third party services on a remote network. | Easily allow your customers to use your SimpleHelp server. | Seamlessly push remote access services onto new devices. | Schedule tool execution and create custom alerts. |
---
Remote Support


Customer initiated on demand support sessions

Your customers can request support in just two clicks:

Download

and

Run

. The support application gathers information from your customer and their computer, and adds them into your support queue. In seconds your technicians can view and control their computer.

SimpleHelp includes advanced file transfer capabilities to copy files to and from the remote machine, a diagnostics mode to better understand performance related issues, and the ability to automate tasks using predefined scripts contained in your toolbox.

Find out more about Remote Support
---
Monitoring and Alerting

Simple health check and performance overview for important systems

Computers that are registered with your SimpleHelp server can each upload performance data. With SimpleHelp you can monitor thousands of servers and PCs, allowing you to easily spot problems before users notice.

With a remote management license upgrade you can configure indepth alerts based on monitored information, so that SimpleHelp notifies your technicians of a problem as it happens.

See how Monitoring can work for you
---
Remote Access


The easiest way to support unattended computers

Remotely diagnose issues and access computers when no-one is there. Technicians can use SimpleHelp to connect to a remote computer with just a single click, allowing them to efficiently perform remote maintenance and deployments.

Configuring a computer for remote access is simple, and SimpleHelp's advanced security features ensure that access is secure.

Learn more about Remote Access
---
Simple Presentations

Screen-sharing for online meetings and webinars

SimpleHelp technicians can share their desktop from within the SimpleHelp Technician Console. Presentations can be attended by thousands of attendees just by using a web browser. No Java, Flash, Silverlight or downloads required, and presentations can be viewed from almost any device.

Learn about Presentations in SimpleHelp
---
Used by IT professionals worldwide


SimpleHelp is used worldwide, and is translated into multiple languages

Technical services firms who manage IT for businesses,

IT help desk teams supporting users within their organisation and other

technical support teams all use SimpleHelp.

SimpleHelp is translated into Danish, German, Spanish, French, Italian, Dutch, Portuguese and Swedish.