Details of the Remote Work features in SimpleHelp 5.2.8 and later
The Remote Work feature set in SimpleHelp allows you to offer your customers access to their work or home machines from a remote location. Setup is designed to be as simple as possible. Just a flick a switch on one or more remote access services to allow remote work. Users can then register just by entering in their email address on their work machine.

To make billing just as simple, the remote work license is separate to your normal SimpleHelp server license, and priced at a low rate of $3 per remote work enabled computer per month. Remote work users will no longer consume your SimpleHelp server sessions.

To help with the COVID-19 crisis we are making Remote Work temporarily free and unlimited to everyone with an up to date SimpleHelp license so they can offer the service to their customers for free or at minimal cost. We plan to keep remote work free until July 2020, but may extend this.

SimpleHelp 5.2.8 and Later
Remote Work functionality is currently included in SimpleHelp 5.2.8 and later. You can download the latest release of SimpleHelp on our
Downloads
page.
Setting up Remote Work

Remote Work operates in a very similar manner to your Technician sessions but there are a few differences in order to streamline the setup process.

To get started, you first need to enable Remote Work on one or more remote access services. Doing this will allow the user of the machine to set up their own access to their machine. You can do this by selecting the machines you want to enable Remote Work on, and flipping the Remote Work switch to on.
Once enabled, the Remote Work Setup app will be made ready on the remote machine. When the user next logs in, the app will launch and prompt them to set up remote working. All the user has to do to set this up is enter their email address.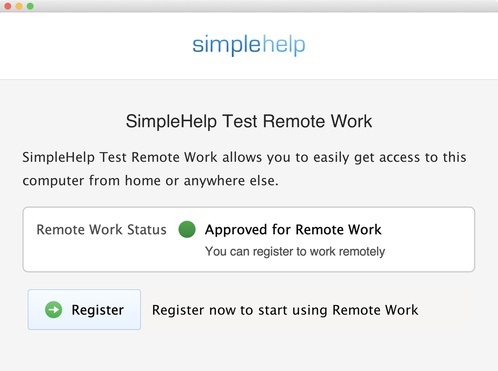 Alternatively, an elevated user can launch the Remote Work Setup app directly from the start menu (or equivalent) on the remote machine, or a Technician can prompt the user to set up remote working immediately using the "Prompt for Setup" button.

Your SimpleHelp server will then email the user a link to the Remote Work app to download so they can get connected to their workstation. To log in they can just enter the username and password they use to log in to the machine, and the two factor authentication code that is sent to their email address.

The Remote Work app will connect them straight through to their workstation with a simpler interface without tools and diagnostic mode, but which still includes file transfer. The user's remote work session will show up in your Access tab, but will not contribute to your normal session limit. Instead, remote working is priced per computer to make it far easier to establish billing with your customers.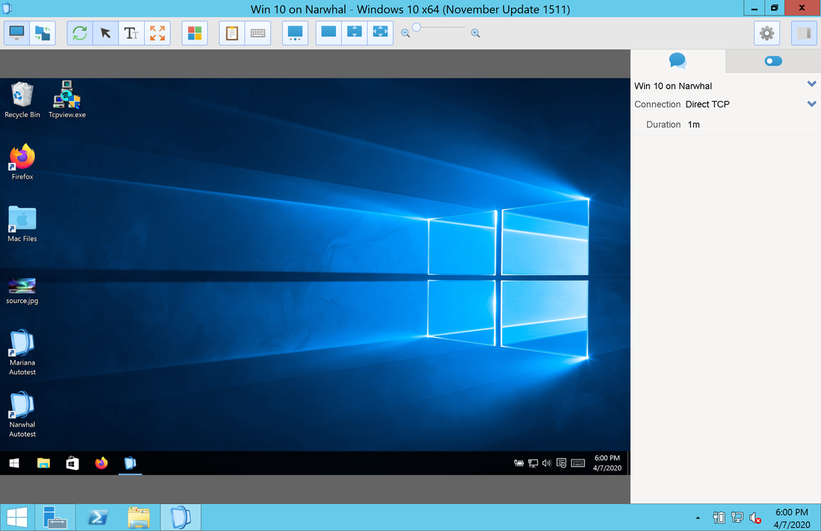 Authentication Options

By default Remote Work will use Operating System authentication - allowing the user to log in with their usual username and password, plus a two factor authentication code emailed to them when they try to log in.

If your customer already has a separate authentication mechanism (for example LDAP or Active Directory) or you would rather set one up, you can disable OS authentication for specific groups of machines in the Remote Work section in the Administration tab, and configure one or more Technician Groups to authenticate users for remote working instead.
Managing Remote Work

In the Access tab Remote Work machines have their own filter set, as does the active session list, since Remote Work sessions do not contribute to your normal session limit. There is also now a Remote Work table view which shows the users (email addresses) mapped to each remote working machine.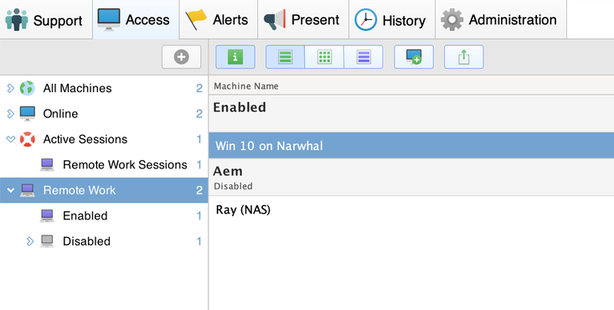 If you don't intend to use remote working at all, it can be enabled or disabled throughout your entire SimpleHelp server via the Server Features section in the Administration tab.


Licensing and Billing

Remote work is billed monthly at a cost of $3 per machine via your SimpleHelp website account based on the number of machines you have enabled remote working on. There are no session limits and remote work sessions do not contribute to your normal Technician session limit.